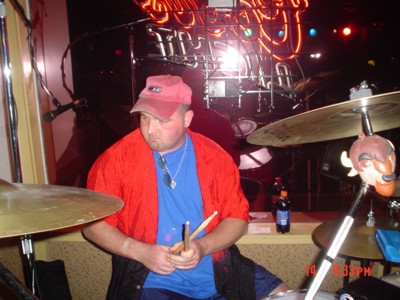 Name: Kevin - Drums, Percussion, Acoustic Guitar

Instruments: Drums, acoustic guitar

Musical Influences: Rush, Crash Test Dummies, Collective Soul, Styx, Sara McLachlan, Yes, STP, The Police, Smashing Pumpkins, Fleetwood Mac, Jim Croce, Kansas and many more

Best Songs:
Building A Mystery Driven, Tom Sawyer, Time In A Bottle, Open Up That Door, Owner Of A Lonely Heart, Promises

Worst Songs: Any song that is rap oriented and that has no lyrical or musical meaning

Favorite Animal & Why: Cats, beacause they are so independent, clean, submissive and domineering. When they look at you, they seem to already know what you are thinking, telepathically. (note from Bill... as long as they don't start sending you telepathic messages, Kev, I won't start to worry...) And - the fact that you're their favorite companion. A good source of strength in the trials of life.

Favorite Soup: New England Clam Chowder and vegetable soup

Favorite Cheese: Vermont extra sharp cheddar

Best Practice Quotes:


Intellectual Quotes: Time and motion wind and sun and rain
Days connect like box cars in a train
Fill then up with precious cargo, squeeze in all you can find

Favorite Line/Lyric from one of our original songs: "What lies ahead is always beyond our sight, but we'll get through" (Anywhere)

Part-Time Job(s)(aka non - music job!): Assistant Coordinator of supplies at area hospital/materials management

Best Way to Beat Bill:

Most Memorable Band-Related Happenstance:

Liquid Sustenance While Playing:

Best "Spellbinding" Activity: Rehearsing with a bunch of great, talented, and most of all, ambitious individuals. Glad that I found them!

Final Thoughts...