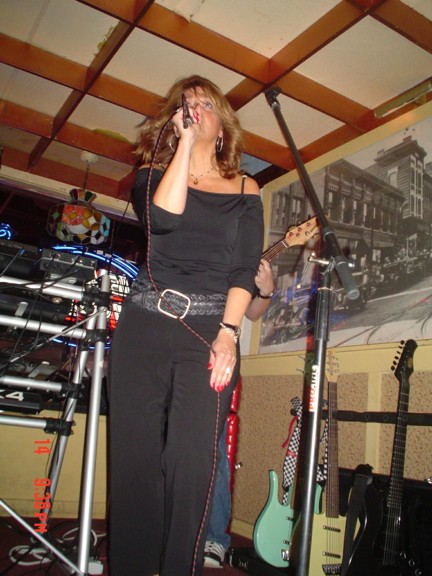 Name: Beth- Vocals

Instruments:
Voice, percussion

Musical Influences:
Bonnie Raitt, Linda Ronstadt, Grace Slick, Melissa Etheridge, Joss Stone as well as all the best 80's rocker chicks!


Best Songs:
I can't imagine where to start. Many good, bluesy ballads give me the goose bumps. But, I am equally moved (quite literally) by a multitude of solid, hard driving rock and roll songs.

Worst Songs:
"Hey Mickey you're so fine; you're so fine you blow my mind! Hey Mickey!"

Sun Sign
Taurus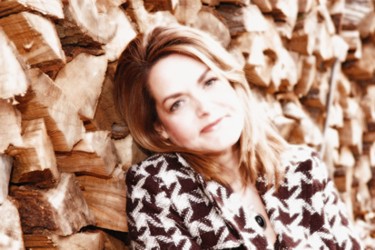 Celtic Moon Sign
The Willow
Favorite Color
Clothes: Black or Brown or White
Accessories: Pink, Turquoise, Silver
Home decorating: Earthy, spicy hues
Favorite Animal & Why:
Any primate, especially monkeys and chimpanzees, because they remind us of how far we have come (or not).
Favorite Food: Never met a soup I didn't love. I do, however, adore my 'everything but the kitchen sink' soup the day after Thanksgiving. EVERYTHING but the cranberry sauce goes in it—yes even my sausage stuffing with walnuts. Put a dollop of cool cranberry sauce on top of a bowl of piping hot soup. I swear it's better than..…well, not really.
Favorite Soup: My favorite meal is an awesome salad which covers all food groups; poultry or salmon, salad greens, goat or gorgonzola cheese, croutons or tortilla bowl, any olive oil based dressing. It is the perfect meal and by no means a diet dish, necessarily. Mexican food rocks, too!
Favorite Cheese: I love them all, but swiping a piece of ripped (not cut) crusty bread through some baked brie, followed immediately with a sip of a nice cabernet… o h there is nothing better! A few olives, a little snuggling, and it's a perfect evening. (… I digress)
Favorite TV Show/Movie:
Grey's Anatomy, Boston Legal (Denny Crane!!), and of course, American Idol, School of Rock, Forrest Gump, Casablanca
Best Practice Quotes:
I'm sure I will have some things soon enough.
Intellectual Quotes:
"Yesterday is history, tomorrow's a mystery, but today is a gift"--Eleanor Roosevelt "Hell hath no fury as a woman scorned"—William Concreve But here's the best one and I swear you should master it BEFORE you are forced to because of some unforeseen, eye opening, life altering event your life. It's very simple. It doesn't seem very intellectual at first, but in practice it is the smartest way to live one's life. Ready? Ok…."Don't sweat the small stuff!" Try it and you can thank me later.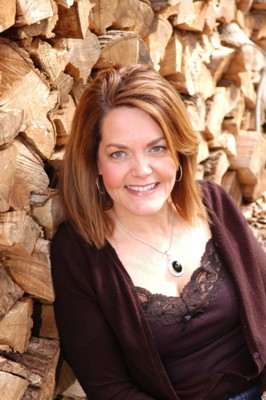 Favorite Line[s]/Lyric[s] from one of our original songs:Bill's song titled, If I Could-- "I'm drawn to your soul by the light in your eyes.."
Part-Time Job(s):
Raising two kids and a husband. (No time off, doesn't pay much, but the benefits are endless!)
Best Way to Beat Bill:
If I knew a way to beat Bill, I would avoid it at all costs and I wouldn't share it with anyone. Bill is one of those guys that even if you could beat 'im—you'd join 'im instead!!
Favorite Season:
Fall: For the clothes, changing leaves, football, soccer, and my favorite day that "kicks off" the holiday season, THANKSGIVING!
Favorite Body Part:
This is a new concept to me since my gal pals and I seem to only acknowledge all those body parts which we despise (and blame our mothers for). If I had to pick one, I'd say my brain. It's gotten me further than anything else ever did and it appears to have more longevity than some other unmentionables. Plus, you've got to respect a body part that stays where it belongs!

What's in the trunk of your car:
Yeah, ok…. So I've got some "junk in my trunk", as they say. I'm cool with that, though. In the trunk of my car, however, (who am I kidding, I drive a mini van) you will find umbrellas, bottled water, blankets, first aid kit, and depending what season it is, a soccer ball, softball, volleyball, beach ball, golf clubs, ski equipment, and folding chairs. I know I should have jumper cables, but instead…. I will sit on my chair, covered up by my blanket and umbrella, drinking water and bouncing a ball until my white knight arrives….such a girl!

Most Memorable Band-Related Happenstance:
Oh there are several already:
Hearing all Bill, Kevin, Jim, and Dave play during my first audition. I remember having a head cold and praying that my voice wouldn't fail me, because I really wanted to work with these talented musicians and I feared not being worthy.
Meeting Jen the first time and thinking "Oh my, she IS Annie Wilson!" You go girl!
……more to come, I'm sure!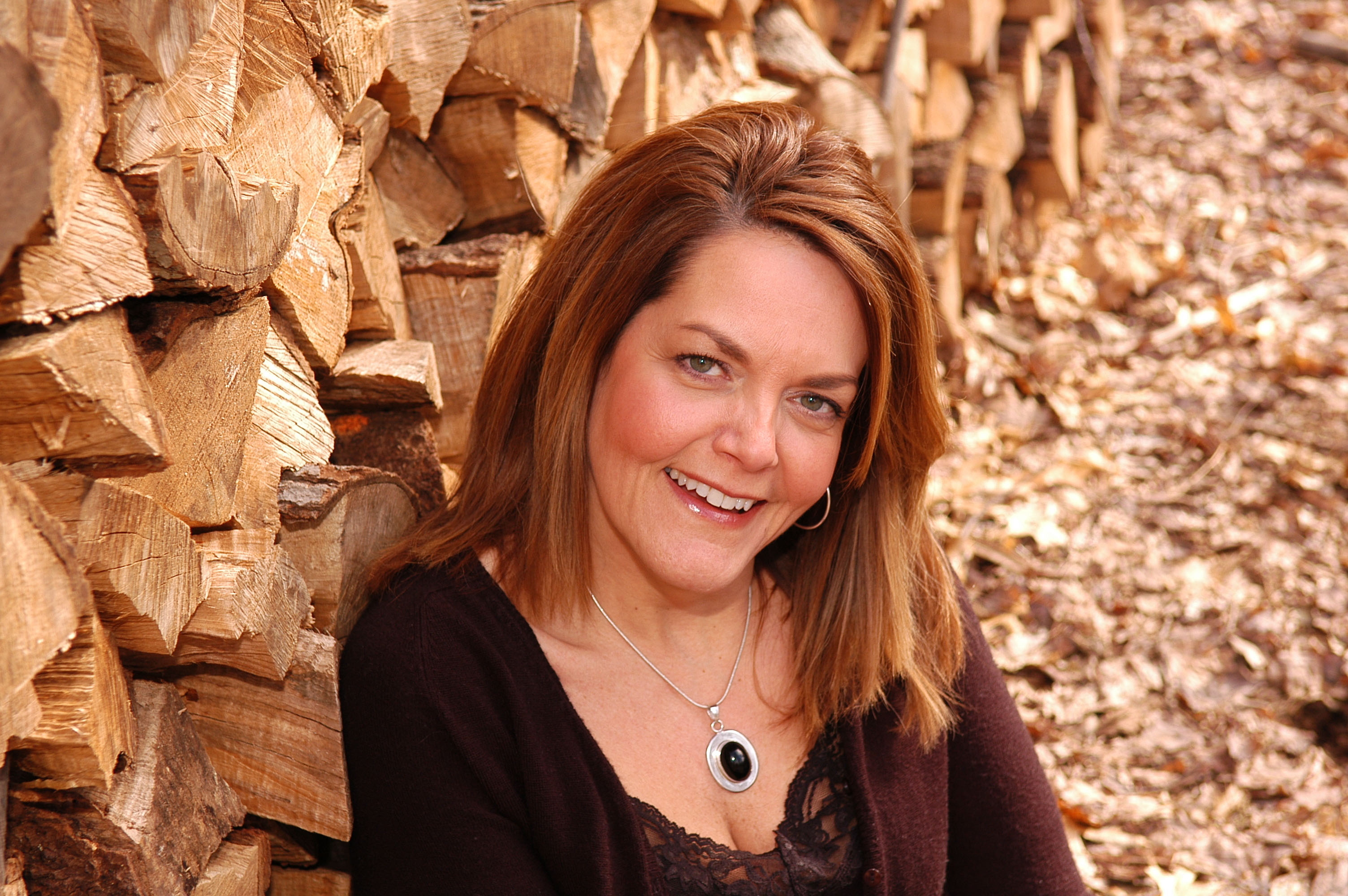 Most Bizarre Initial Impression of Another Band Member:
Meeting Jen at her house for a vocal rehearsal. I walked into her candle lit, meditation-type sanctuary with symbols I didn't recognize painted on the walls inclusive of glitter and thought, 'Oh, she really is a witch!' A good witch, of course!
Liquid Sustenance While Playing:
Depends on the mood and/or the season. Love beer on a hot summer night, but the carbonation can be tough on the vocal chords and my otherwise good manners. Currently indulge in the "lemon drop" martini (tart on the pallet, warm in the throat), but one is enough! Must NOT be made with sour mix—only fresh lemons, sugar, vodka, and a mint leaf. Strongly recommend an electric juicer; it takes three lemons to make two drinks. Don't forget to sugar the rim of the glass, too!! Once again, such a girl!
Favorite Past Life:
All of them. They say you keep coming back 'til you get it right. Adios to all you perfect people out there. As for me?....I'll be back!
Best "Spellbinding" Activity:
Playing a song, getting it right, and all of us acknowledging it at precisely the same moment with a smile. (Dave smirks…..but we know he knows)
Final Thoughts...
Please! NOT YET.