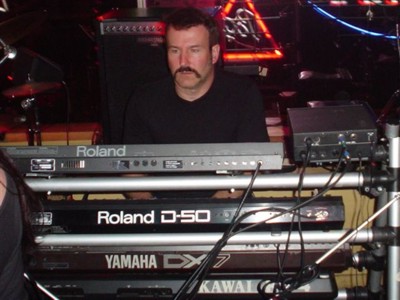 Name: Jim - Keyboards

Instruments:
Roland Juno 1, Roland D-50, Yamaha DX-7, Kawai K4, Emu Proformance Plus Piano, Kurzweil Micropiano, Behringer KX 1200 Keyboard Amplifier

Musical Influences:
The keyboards of Deep Purple


Best Songs:
Just about everything by Deep Purple. Hold Your Head Up (Argent), Voices (Russ Ballared) Scenes From An Italian Restaurant (Billy Joel), Dream Weaver (Gary Wright), Ah Leah (Donnie Iris), High Landrons (Eric Johnson), Oh No The Radio (Owsley), Lucy In The Sky (Elton John), Take The Long Way Home (Supertramp), Stone In Love and Girl Can't Help It (Journey), Bodhisattva, Rikki Don't Lose That Number, and Reelin In The Years (Steely Dan), too many more to mention.
Worst Songs:
Favorite Animal & Why:

Favorite Soup:
Won Ton
Favorite Cheese:
Swiss
Sun Sign:
Libra
Celtic Moon Sign:

Favorite Color:

Favorite Flavor:
Grape
Favorite Time of Year:
A tie between summer and football season - Steelers #1
Best Practice Quotes:
Intellectual Quotes:
Favorite Line/Lyric from one of our original songs:

Part-Time Job(s):

Most Memorable Band-Related Happenstance:
(so far) The first time we played in front of an audience. All the time and work paid off.
Most Bizarre Initial Impression of Another Band Member:
Liquid Sustenance While Playing:

Favorite Past Life:
Best "Spellbinding" Activity:
Playing music with five very talented musicians
Favorite TV show:
The Honeymooners
Final Thoughts...