Name: Neil - Webmaster, Sound Board

Instruments: Alto and Tenor Saxophone, My Computers

Musical Influences: I'm 17 years old - I can't say I've seen or heard half of the greatest music I'll ever hear. In other words, I'll keep this real short, instead of like Ivan's which is even longer than Bill's, although it seems to brag otherwise. My favorites so far include tons of greats from musicians like Eric Claptonin the 70s on and 90s stuff from Counting Crows and Sister Hazel, and almost anything in between. Other influences, well, I'll tell you when I feel more heavily influenced.

Worst Songs: The Good Life Always first, so it's the time where the most feedback comes from still adjusting the sound board monitor levels.

Best Songs: Anything in the last set, 'cause all the sound board stuff stays pretty still.

Favorite Animal & Why: I think a snail would have to have some interesting things going on its head, else why wouldn't they be extinct from suicide by now?

Favorite Soup: I've never been too fond of soups.

Favorite Cheese: I'm half Italian - gotta go Mozzarella.

Intellectual Quotes: I've got two:
"Everyone is wise until he speaks."
-Irish Proverb
"I hope I die in my sleep like Grandpa,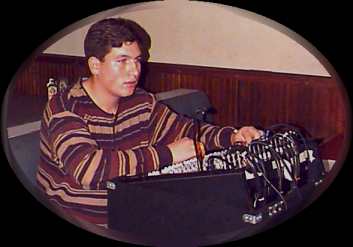 not screaming in terror like his passengers."
-who knows?
Favorite Line/Lyric from one of our original songs:
Part-Time Job(s): Graphic Designer, Webmaster, Computer Tutor, Troubleshooter, Network IS/IT, House Restoration/Landscaping, and a Brain Surgeon hobbyist.
Best Way to Beat Bill: I'm 6'5", 275 pounds - any questions?
Most Memorable Band-Related Happenstance:
Getting kicked out of Short Beach Saloon gig 'cause I'm underage.
Most Bizarre Initial Impression of Another Band Member: Ivan certainly has some interesting traits about him.
Liquid Sustenance While Playing: Coke - Aside from water or a Shirley Temple, about the only non-alcoholic beverage behind the bar.
Favorite Past Life: The one with the guy who said something like...ummm... damn, I forgot.
Best "Spellbinding" Activity: "Seeing" those 3-D pictures in the mall displays.
Final Thoughts...
I hope my final thoughts don't come any time soon.